Japanese Words used in Karate
Dojo Kun
JKA Karate teaches a student to be peaceful. Our dojo kun reminds us to:
1. Seek Perfection of Character


1. Be Faithful

1. Endeavor

1. Respect Others

1. Refrain from Violent Behavior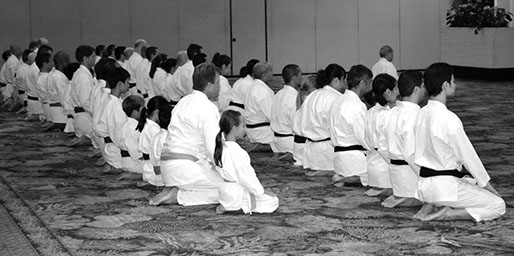 All of which are numbered 1 and are given the same value. A JKA Karateka does not boast showy demonstrations nor the points earned in tournaments. A JKA Karateka has kime (focus) and constantly learns about the harmony between the mind and body. A true Karateka does not engage in fights or brawls but if conflict is unavoidable, JKA Karate dictates taking down an opponent with a single blow.
Because of strong roots and foundations, JKA Masters base every lesson technique in solid, scientific physical movement and theory. Experience allowed them to refine and improve every single detail that mattered in the improvement of techniques. There are also many Japanese words used in Karate. Below is a list of the most common terms used during class in JKA Hawaii.
General Terms
Karate
Empty Hand
---
Sensei
Teacher
---
Senpai
Senior
---
Do-Gi/Gi
Uniform
---
Dojo
Practice Area
---
Osu/Oss
(Various Meanings)

---
Seiza
Kneel
---
Mokoso
Meditate
---
Mokoso-Yame
End Meditation
---
Shomani
Ancestors
---
Rei
Bow
---
Otagai Ni Rei
Bow to Others
---
Kihon
Basics
---
Kumite
Sparing
---
Kata
Form
---
Hajime
Begin
---
Yame
Stop
---
Hai
Yes
Positions
Yoi
Natural Stance
---
Matte
Wait
---
Mawatte
Turn Around
---
Gedan
Lower
---
Gedan-barai
Lower Sweeping Block
---
Jodan
Upper
---
Jodan-uke
Upper Level Block
---
Chudan
Mid-Level
---
Chudan-soto-uke
Mid-Level Outside Block
---
Mae-geri
Front Kick
---
Mawashi-geri
Round-house Kick
---
Yoko-geri
Side Kick
---
Yoko-geri Kekomi
Side Thrust Kick
---
Kiba-dachi
Horse Riding Stance
---
Kamae
Fighting Posture
---
Kokutsu-dachi
Back Stance
---
Kiai
Battle Shout
---
Other
Ichi
1
---
Ni
2
---
San
3
---
Shi
4
---
Go
5
---
Roku
6
---
Shichi
7
---
Hachi
8
---
Kyu
9
---
Ju
10
---
Hitotsu
1
---
Koto
Thing/Matter
---
Jinkaku Kansei ni Tsutomuru Koto
Seek Perfection of Character
---
Makoto no michi o mamoru koto
Be Faithful
---
Doryoku no seishin o yashinau koto
Endevour
---
Reigi o omonnzuru koto
Respect others
---
Kekki no yu o imashimuru koto
Refrain from Violent Behavior
---